If you would like to explore adding products to your account on your own, reach out to your customer support representative or info@printyourcause.com to have this feature added to your account!
First, start in the Products section of the management portal.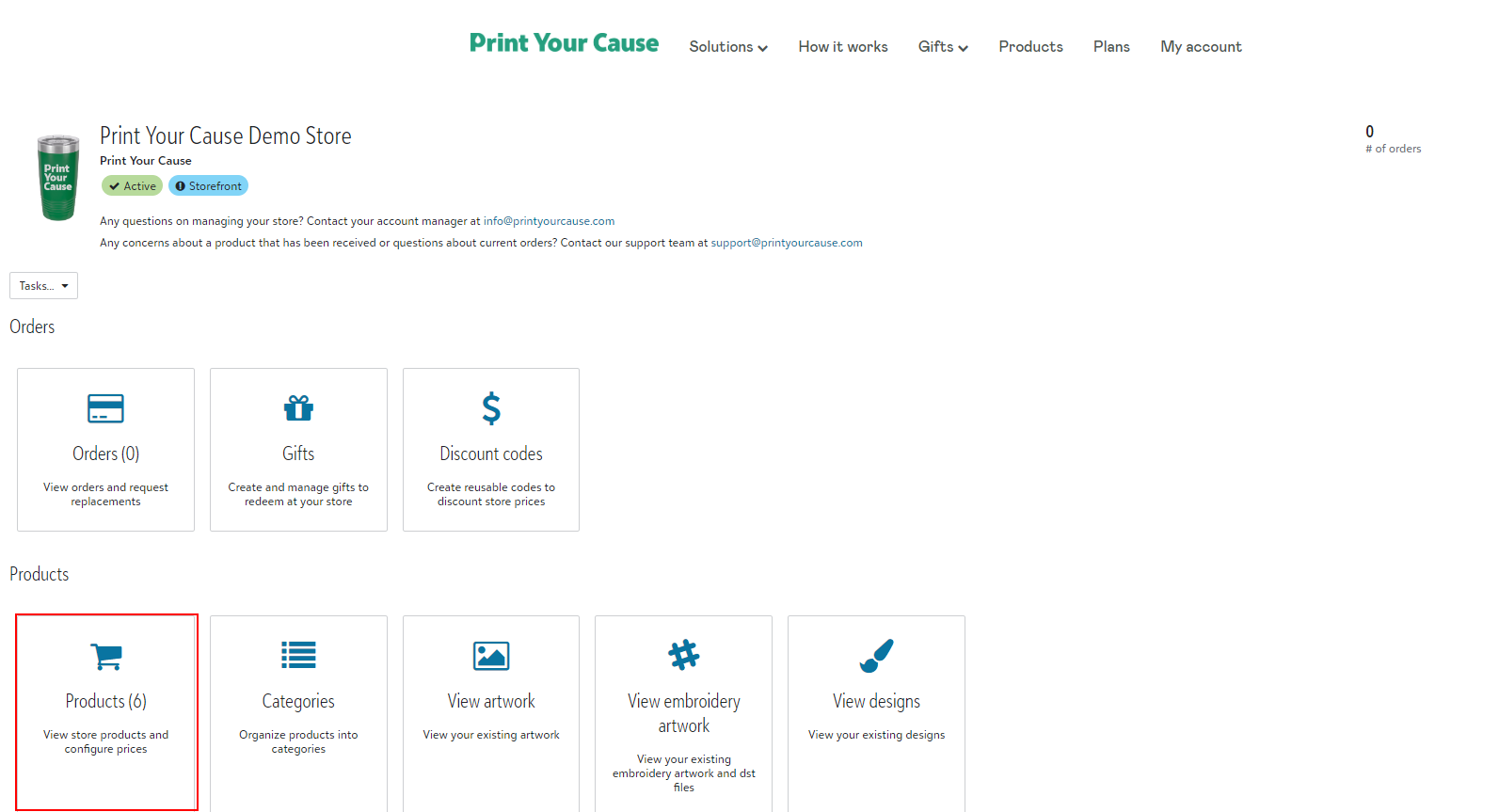 Select +Add a new product.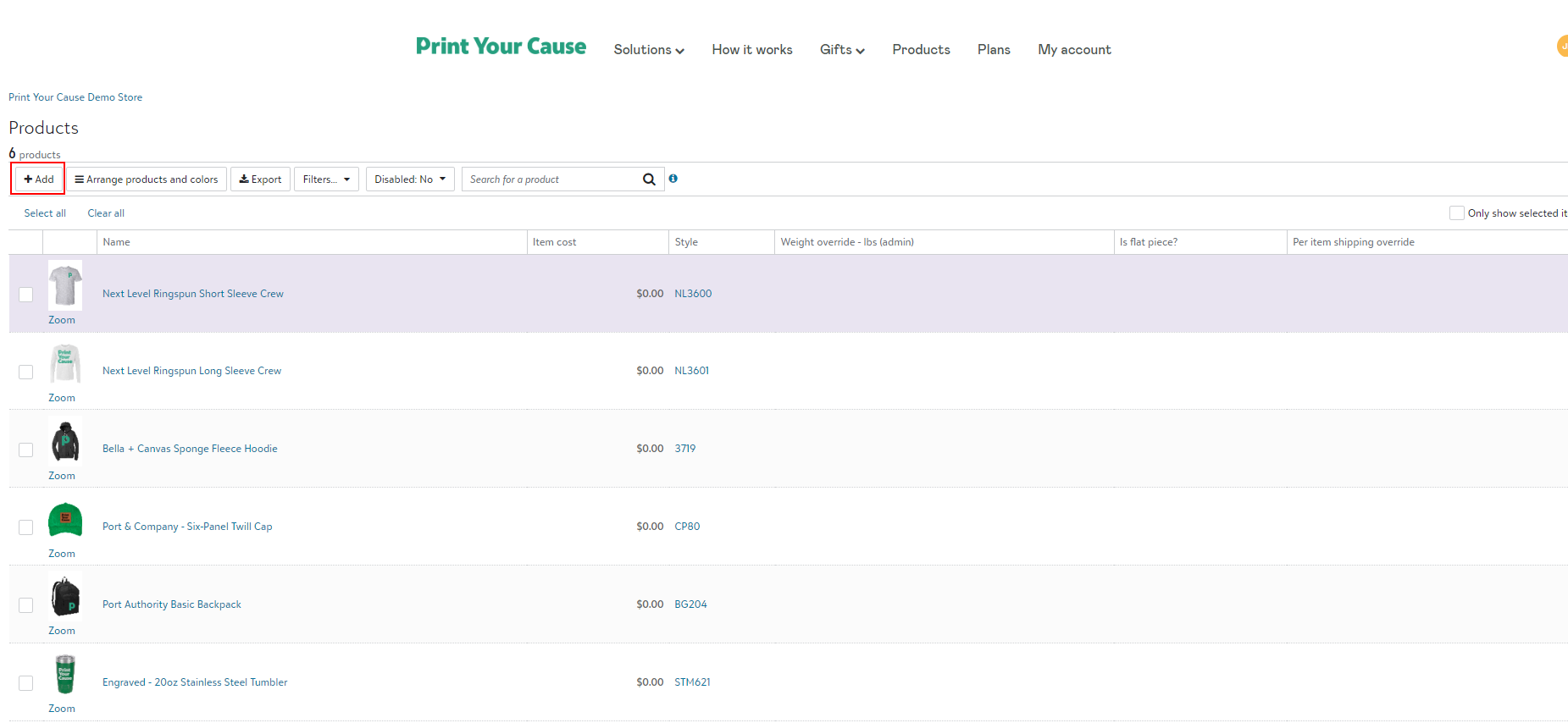 You will then be prompted to select your decoration method. These options are set based upon your subscription level.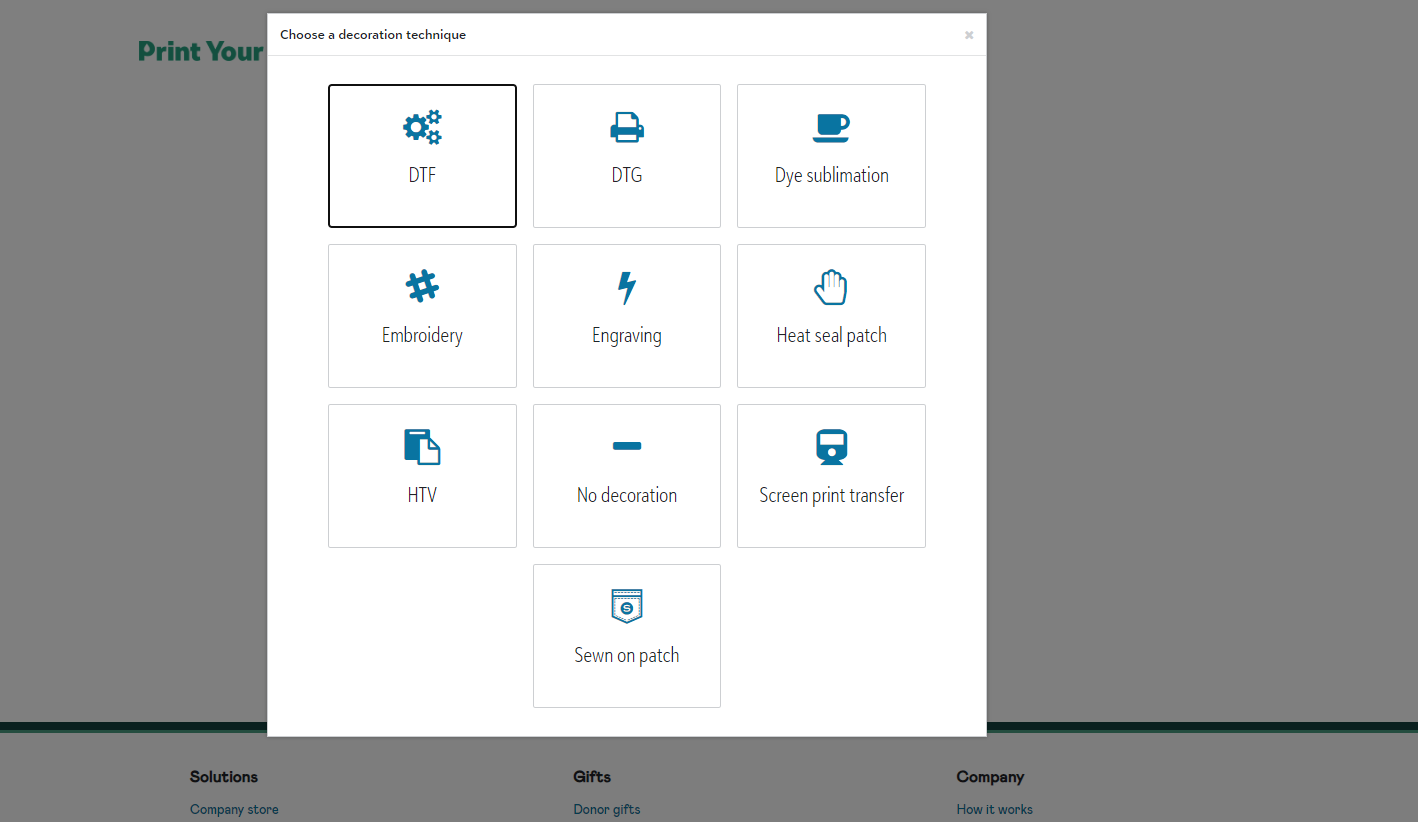 We do have the option to review requests to add print methods and products. If there is something you don't see, reach out to us at info@printyourcause.com.
Once you select the decoration method, you will be prompted to the catalog. Here, you are able to search for new products, or quickly navigate to a specific item by searching the SKU number.
1. Upload art: Once you choose artwork, this will automatically populate on your product at our recommended size and placement. However, if you'd like, you are able to resize, center, and choose different print locations within the left side panel.

Learn more about the available decoration methods and how to prepare your art files
here
.
Be sure your artwork is centered, and if there are small details in the design, the "Downscale Artwork" button will allow them to show clearer in the storefront.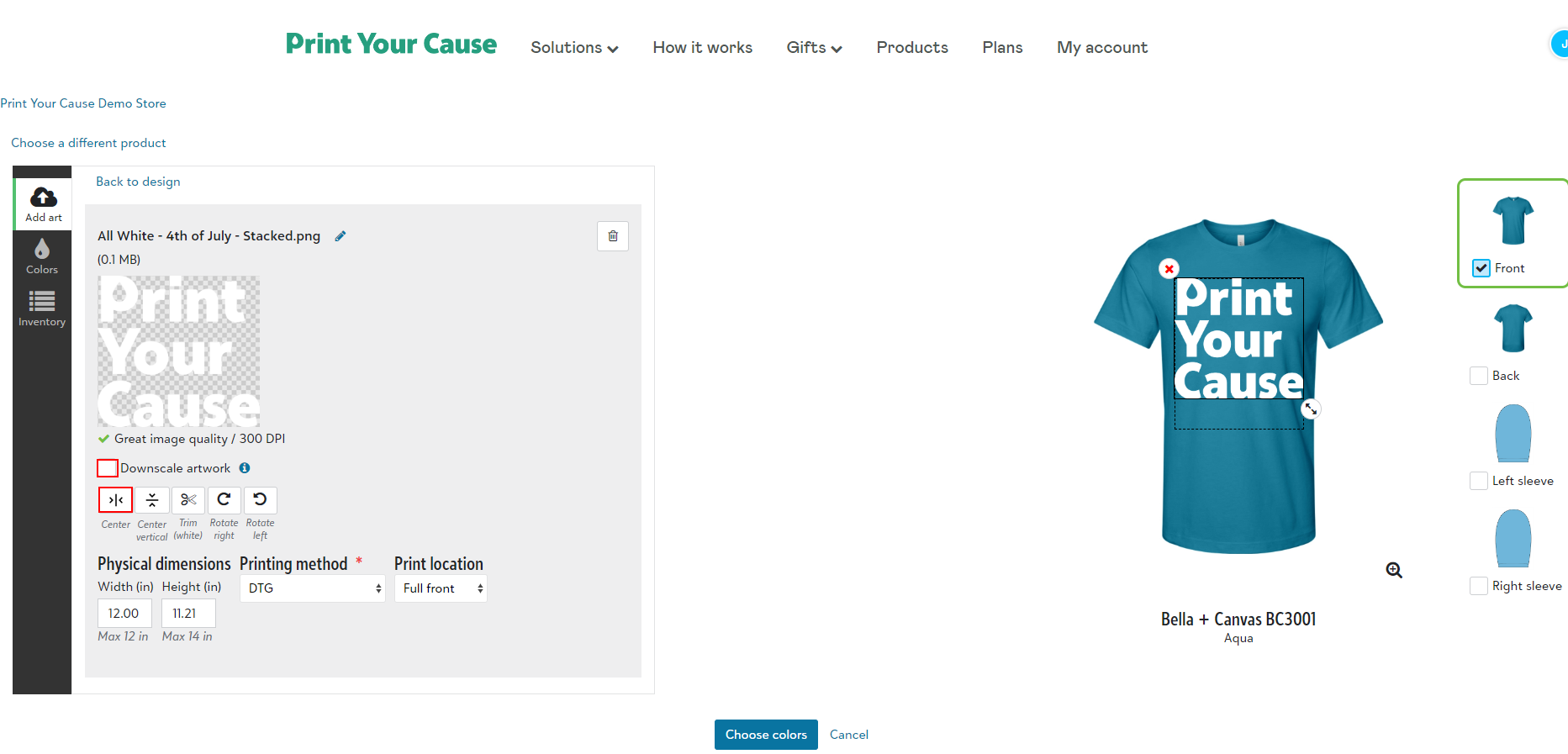 2. Select the garment colors. You are able to offer your design on a variety of garment colors with a few clicks.

When you select the garment colors, a mockup will automatically generate on the right hand side. If you have art set on the back and/or sleeve(s) of the design, easily select the location to view the mockup.
These are the mockups that will auto generate to your webstore.

3. Confirm inventory: if an item is low on inventory a warning will populate. Since our inventory is pulled live from the suppliers, if something goes out of stock, the option to order will automatically be listed as "Out of Stock" from your webstore until it becomes available again.

4. Create and name product: select Save product and you will see a popup asking you to name the product. You will also enter a design name so you can use this same placement and size on other garments.

Product imprint sizing may vary, so the same "design" may need to be rebuilt when changing products to ensure proper placement (ie. youth vs adult, women vs unisex)
Congratulations! Your product has been made. However, the item is not ready to go live on your store just yet. Once a product has been made, you will be able to alter the product description as well as edit the design, color offering, and price.
You are able to set your profit to either a set dollar amount, percentage, or a fixed sales price on the item.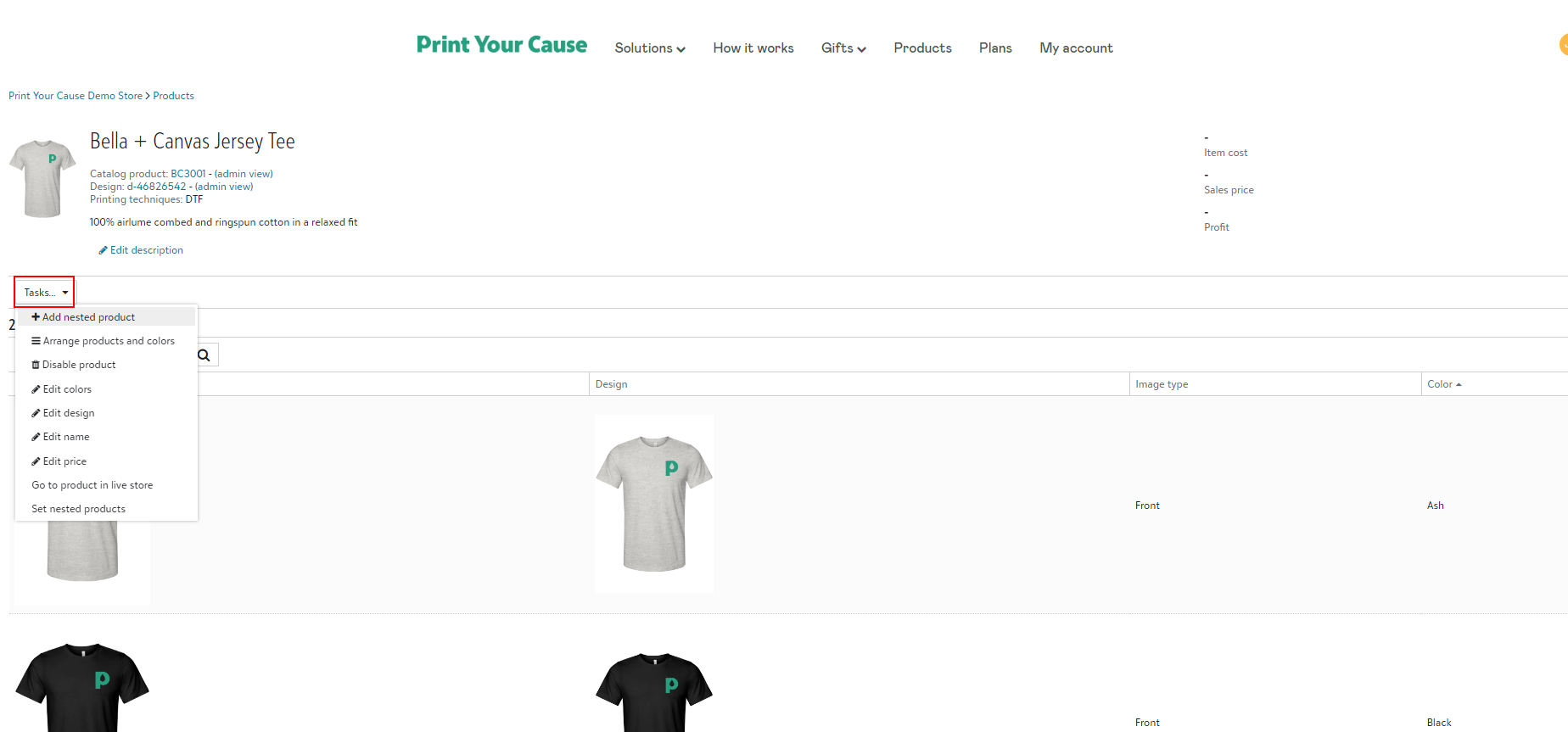 Still need assistance? Reach out to us at info@printyourcause.com.