Using gift codes within your account
Once it is confirmed your account has access to gift and discount codes, you will see the feature available on your account dashboard under orders.

When you go into gifts, you will see how many total unique codes have been created for your store. As well as you are able to see which are pending (not yet redeemed), redeemed and partially redeemed.
Omitted from the below preview, you will also have access to view the recipients name, email address, who created the code, and when the email with the code was created. In addition, you have the option to create an expiration date, but it is not required.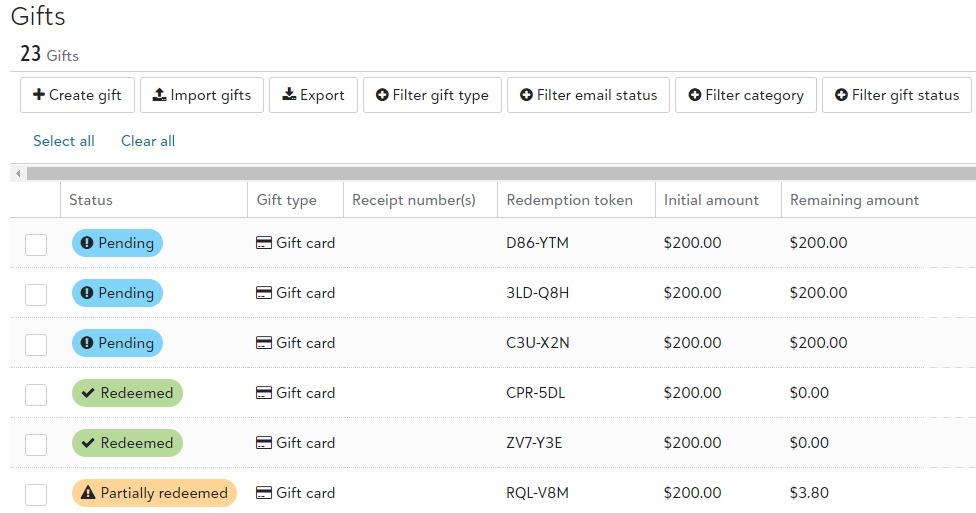 To create a gift, you will select + Create gift (top left) and input the details, or Import gifts in bulk via .csv.

Headers to import gifts should read:

- Gift type (rows read "One item" or "Gift card"

- Amount (if creating gift cards)

- Name

- Email

- Expiration date (optional)

- Categories (if applicable to your store)
After the gifts are created, you can choose the "Select all" button at the top of the top of the page, or the check box next to the "Status" column of an individual and a banner will appear at the bottom of your screen with an option to "Send emails".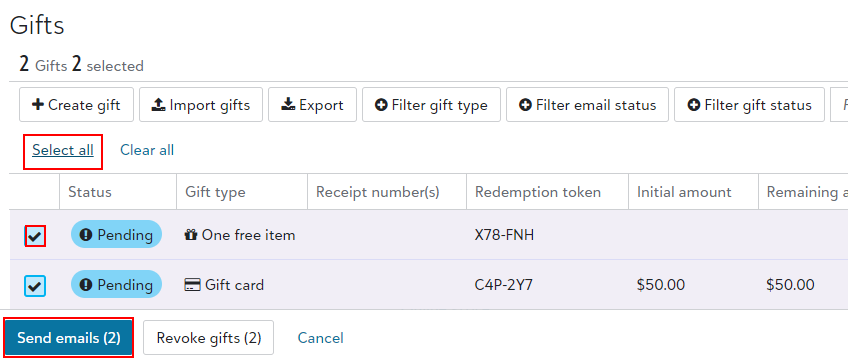 You will be prompted to write a message to recipients from your organization prior to the emails being sent. A link to the store along with each individual's "Redemption token" will automatically be included in the email.
After choosing to "Send _ emails", each recipient will be sent their gift!
Helpful Tips:
Gift emails are sent from the info@printyourcause.com email account

Free gifts are billed at the highest priced item in the order plus $5.95 shipping for that item.

Gift cards should be created for the final sales price in the store (you will only be billed the "Org cost") - add $5.95 to the sales price for gift cards if you would like that included in the gift as well!

The gift portal will send 100 gift emails at a time - if you have additional codes to send, use the filter button at the top of the page to "+ Filter email status" on "Not sent", then "Select all" and "Send emails" again until all recipients have been emailed!

If a gift recipient cancels their order, the Redemption Token will not be re-activated. A new gift code will need to be created and emailed to them to place a new order.

Redeemed gifts are automatically billed at the beginning of each month to the card on file. You will receive an emailed receipt when the card is processed.