From your Account Page, you'll see a category for "Orders", with a tile that says "Order Now", you'll want to click this icon to start your order. This will not add products to your store-front - this is only for bulk-ordering.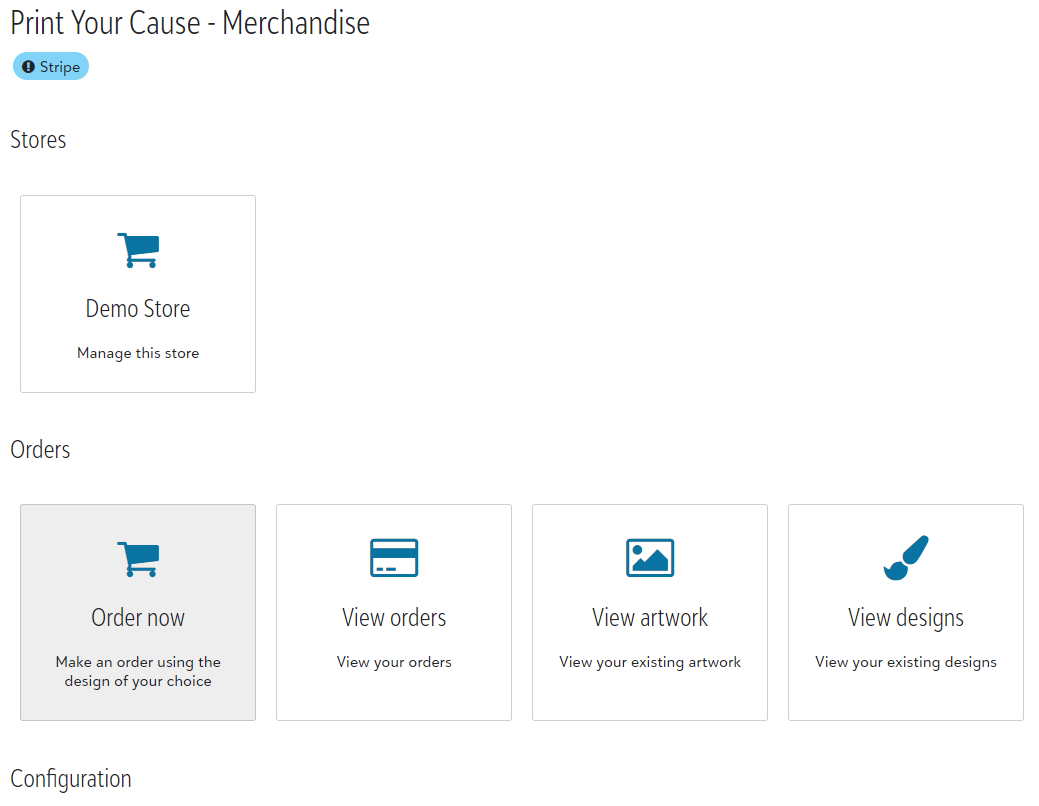 Once you've clicked "Order Now" you'll be prompted to choose a product. You'll be able to filter products through the left side-panel, or, you can search for a product in the top right of the page by keywords or specific names.

After selecting a product you'll be prompted to the design page - this is where you will upload the graphics you'd like to use for your design. If you already have a store setup with Print Your Cause, your existing product designs will automatically load here for you to select from. If you'd prefer to use a new design simply click "Build a New Design" to go back to where you can upload.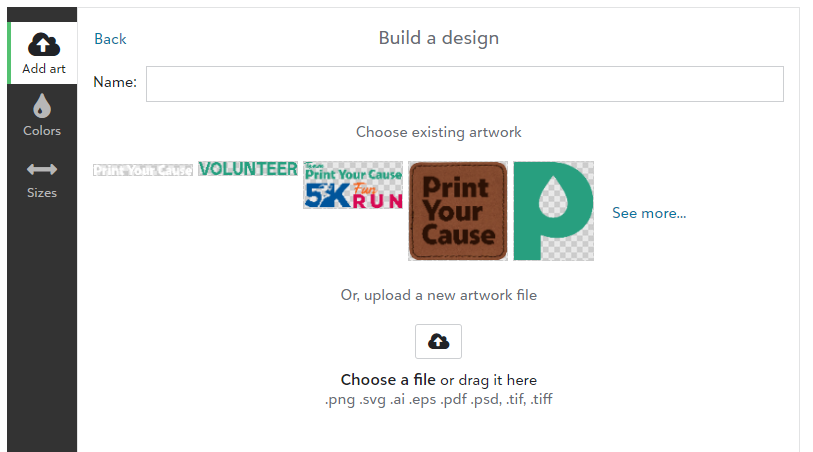 Either choose existing artwork or upload a new artwork file to start designing your product. Once you choose artwork, this will automatically populate on your product at our recommended size and placement. However, if you'd like, you are able to resize, center, and choose different print locations within the left side panel.

Want to add a design to the front, and the back? No problem! On the right side, simply select the additional placement you'd like to add and that mockup will load for you to add artwork instantly. Simply click "Add artwork to design" to choose another graphic for - in this case - the back of the t-shirt. The same rules will apply to this secondary graphic - if you want you can resize, center, etc.

When you're happy with the way your product is looking you'll want to click "Next: Choose Product Colors" at the bottom left. This will take you to the screen to determine your colors. You are able to select more than garment color indicated by a checkmark on that color; however, the colors of your graphic will not change. You are also able to toggle between the different placements (front/back/sleeves) to ensure you are happy with the way everything looks.

As you start selecting colors you'll see a button appear below the mockup that says "next color" or "previous color" this will give you the option to scroll through all the colors you've selected. When you're happy with your product, simply click "Next: Choose Sizes" at the bottom left to enter your size information. From here you will be able to see inventory to ensure you can order as many as you'd like, and see which sizes are available.

To complete your order click "Add to cart" and give your design a name so you can use it again easily on future products - we recommend something specific like "Volunteer shirts, front and back". Then you can view your cart or continue shopping. When you're ready you can "Checkout".
Here you are able to enter your details, payment information (which can be saved to your account for future orders!) and even a Purchase Order number if you need that for your team. Simply "Place Order" and you'll get a notification when your products ship in 5-7 business days.
Not ready to place your order? Your order will be saved in your cart until you are ready, this can be accessed at anytime through the account page.